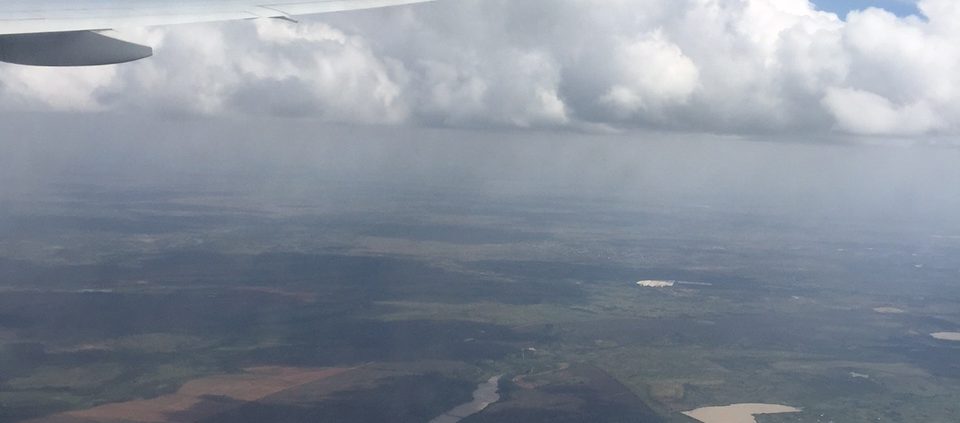 By David Leipziger MURP/MBA 2017
As my departing flight crossed Los Angeles, a pall of clouds seeped over the dry, brown city; as I landed in Nairobi, the afternoon sun reflected off of the small lakes and fisheries that dotted green, rolling hills below. These aerial views suggested I was in for a new and different summer.
My 10-week trip to Nairobi included a layover in Dubai. Time passed quickly, but the visit soured me on airports forever. After DXB, every other airport in the world seems dated and incomplete. I'm not sure if it was the four-story fountain wall or the flight of transparent elevators or the kitschy wrought iron furniture at the numerous French-style cafés. But it's fancy.
My Emirates flight touched down in Nairobi at 3 p.m. and I found a driver to take me to my digs in the expat-rich Kilimani neighborhood. My driver's name was Steve. He lived beyond the airport, farther to the southeast. Steve had one cassette tape in his Toyota Cressida—a tape that he constantly ejected and reinserted in hopes of improving its damaged sound. Nonetheless, the warped sounds of Jane Muthoni's bouncy beats scored my first images of Nairobi.
The road into town, Highway A104, has two lanes in each direction with a 20-foot median sprouting young trees. Apparently the vegetation was recently installed in anticipation of Barack Obama's impending visit. What's unfortunate is that I am in Nairobi to intern with the Institute for Transportation & Development Policy, working on the implementation of a bus rapid transit line that will uproot the entire median. As we inched along a dusty and congested A104, I wondered if the city would benefit more from a dedicated mass transit route or the stretch of needed greenery. In any event, at least they weren't going the Los Angeles route of adding four more lanes of traffic.
Scores of pedestrians walked along beaten dirt paths alongside the highway. There were likely as many pedestrians as cars. People crossed the slow-moving traffic at will. While the indiscriminate crossing smacked of hubris, I must admit that cars in no way accommodate: pedestrians make it their business to get out of the way. Meanwhile, vendors weave through traffic, walking against the flow of cars. You can buy almost anything on A104: towels, bananas, locks, phone chargers, passport holders, flags, tote bags, hazard signs, bike tires, CDs, and paintings. And they'll find you something if you don't see it offered.
Not long after we permanently ejected Jane Muthoni, Steve slowed the car to a crawl and pulled over. He told me that he'd been having some car trouble and popped the hood to investigate. We had run out of gas.
Steve took a few minutes to flag down passing motorbikes and cajoled one into acquiring some petrol for him. We waited silently for 15 minutes for the motorcycle to return. When he did, Steve flicked on the radio and popped the fuel tank. Although I sat facing the hot afternoon sun and the dust and exhaust swirled around me, the croon of Lionel Ritchie's "You Are" sort of made our roadside fuel-up a special experience.
Steve and the motorcycle driver carefully emptied a transparent, detergent-sized vessel full of petrol into the Cressina. Steve pulled out his Nokia and paid our savior using the popular phone-based payment system called Mpesa. We started back up and pulled into crawling traffic. En route to my group house in Kilimani, we passed landmarks like a UN-Habitat office, the infamous Kibera slum and the enormous Kenyatta Market.
I arrived at my house on Wood Avenue near sunset. The compound has a pair of two-story houses with small yards (our landlord lives in the other building). Our place has three bedrooms and two dogs—one of whom is named Lebron James. After I settled in, we decided to go out to eat at a Lebanese restaurant. The place was not far away by big city standards, but certainly too far to walk. As we emerged from our Uber, the warm night air felt positively Californian. And, as I politely declined the proffered valet service, I realized that I may not have left Los Angeles far behind.
https://global.luskin.ucla.edu/wp-content/uploads/sites/20/2015/06/img_0080.jpg
1280
960
UCLA Luskin School of Public Affairs
https://global.luskin.ucla.edu/wp-content/uploads/sites/20/2019/02/Bxd_Blk_LGPA_Luskin_G-e1550679145118-1030x199.png
UCLA Luskin School of Public Affairs
2015-06-29 21:17:11
2019-05-20 14:28:30
"Around the World and Back"