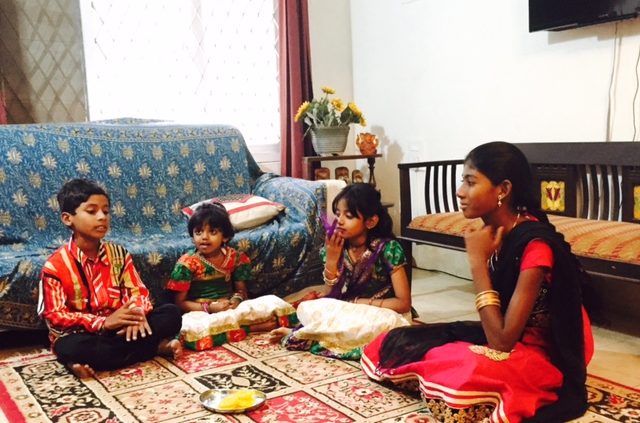 By Maritza Lee MURP '16
Today Raji and her two daughters, Synyavi and Snavika, are wearing beautiful traditional Indian outfits. Raji has been working for the household for many years and lives in a small back house. The girls are running around wearing their matching lehengas (pants) and blouses. "Today is Raksha Bandhan, a popular festival," my roommate Suparana explains. "We are not big on going to malls or things like that; instead we meet with the family and spend time together." Today Raji's family is visiting; they are here to celebrate Raksha Bandhan.
Raksha Bandhan is the celebration of the sacred relation of a brother and a sister. The brother makes a promise to protect his sister from any harm. The sister prays to God to protect her brother from evil. At 5:00 pm, people make their way to the living room. Raji places two plates in the center of the room; the children seat themselves in a circle around them. There are three young girls and a boy who look very excited.
Raji instructs her oldest daughter to place some vermilion (red powder) on her cousin's forehead. She proceeds to feed him some sweets. "These are his favorite sweets. We offer our brother his favorite food for Raksha Bandhan," Synyavi says. They both smile. The brother now gets onto his knees and kisses his sister's feet. The sister drops flower petals on his head. Next, it is time for the bracelet. The sister ties the silk thread, called Rakhi, on their brother's wrist and prays for their well-being. They are not blood siblings, but now they are brother and sister under Raksha Bandhan. We all smile.
The ceremony comes to an end. Raji takes the plates with her and everybody leaves. "Raji is doing this because of her two daughters. She wants her daughters to learn and keep the Hindu tradition in the family," Suparana explains. "I do not have brothers so my dad used to do this for my sister and I. Little girls are treated as divinity in Hinduisms, although it is not always reflected in terms of gender equality."
Suparana is my roommate and guide, but more importantly, she is a wonderful friend. Thanks to her, I gained the confidence needed to move around Hyderabad by myself. Sometimes the city's busy streets can be overwhelming, especially for women. Suparana is playing the role of the "Rakhi brother" for me- teaching me my way around and how to wear kurtas (Indian blouses), dupattas (light scarfs), and sarees (Indian dress) like the local women. Thank you, Suparana!
In addition to Suparana's help here in Hyderabad, I am thankful to those back home who made this experience happen. Thank you to the Bergmans for this amazing opportunity!
https://global.luskin.ucla.edu/wp-content/uploads/sites/20/2015/09/fullsizerender.jpg
480
640
UCLA Luskin School of Public Affairs
https://global.luskin.ucla.edu/wp-content/uploads/sites/20/2019/02/Bxd_Blk_LGPA_Luskin_G-e1550679145118-1030x199.png
UCLA Luskin School of Public Affairs
2015-09-01 22:59:01
2019-05-20 14:06:40
Happy Raksha Bandhan (Rakhi)! My First Ceremony in India