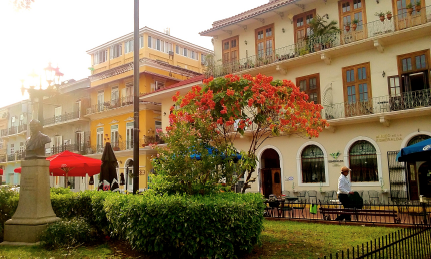 By Marissa Sánchez MURP 16'
When I first landed and got off the airplane in Panama I was quite unsure of what to expect. If I can be completely honest I had not heard much about Panama, except that it was a popular tourist destination in Central America and that it was responsible for engineering one of the seven wonders of the modern world, the Panama Canal. I had seen some YouTube videos and read some articles in preparation for my trip but did not feel it had been enough to prepare me for what I would experience in this new country.
As I picked up my suitcases and headed to the passenger pick- up area I kept having nervous thoughts about standing out and not blending in. I was worried that being a young woman traveling alone I would draw attention to myself and be seen as a vulnerable traveler. But this feeling soon disappeared. I was quickly greeted by a friendly young man holding my name card who was the driver responsible for driving me to Casco Antiguo, the district where I would be staying for the summer.
On our way to Casco Antiguo the driver pointed to the various landmarks as we drove past them and shared a little bit about himself and his studies in Panama. He was studying engineering in one of the public universities in the city, and like many other students his age he worked during the day to pay for his student expenses and attended school at night. Attending school was a blessing that he felt he had earned by working hard and multiple jobs. Being early July, school was still in session, but he was looking forward to the short school break the following month. Puzzled, I asked about summer break and he responded that summer break did not begin until January. Summer break in Panama begins in January and ends in March he told me, following the season of best weather when the air is less humid and the weather the most enjoyable.
Soon after that he mentioned that we were approaching our destination, Casco Antiguo. As I looked out the window I recognized how well the name suited the place. Antiguo in Spanish means ancient. Casco Antiguo being the historic district of Panama and also the second city to be built showed an array of buildings with Spanish Colonial architecture. Some of the buildings were deteriorated but you could still see the remnants of what it must have looked like hundreds of years ago. Others were being revitalized quite beautifully and showed signs of exterior splendor. As we continued to drive through Casco Antiguo I saw signs of two completely different living conditions. On the high end of the spectrum there were the alluring restored Spanish Colonial buildings that seemed to be housing the middle to high- income residents and tourists, and on the low end of the spectrum natives of Casco Antiguo who were living in the buildings that had yet to be restored. The buildings of the middle to high- income residents showed signs of modern living conditions with high end amenities. The buildings of the low- income residents just across the street showed a startling difference, signs of no sanitation, no flooring, and no proper plumbing infrastructure.
These were the real residents of Casco Antiguo, residents who were suffering from the effect of gentrification. Residents who were being evicted from their homes because they could no longer afford the living expenses of remaining in the district. A compelling difference of living conditions between people of contrasting economic backgrounds that I wondered to what extent I would continue to witness as I lived in Panama.
https://global.luskin.ucla.edu/wp-content/uploads/sites/20/2015/09/first-impression-panama.png
259
431
UCLA Luskin School of Public Affairs
https://global.luskin.ucla.edu/wp-content/uploads/sites/20/2019/02/Bxd_Blk_LGPA_Luskin_G-e1550679145118-1030x199.png
UCLA Luskin School of Public Affairs
2015-09-29 01:01:58
2019-05-20 13:51:32
My First Impression of Panama