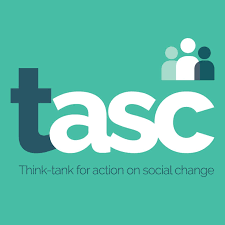 Searching for Something More: Working Abroad at a Dublin Based Think Tank and Improving Means for Social Solidarity Among Key Migrant Workers
By Mason Parker MPP '22
Upon relocating to Ireland during remote instruction and the COVID 19 pandemic, I was granted a position to work with the Dublin based think tank, TASC, (Think Tank for Action on Social Change), as an associate research fellow for the calendar year. Although the full time staff of the organization is no more than 15, their output is understatedly large and has important effects in influencing policy within Ireland and the greater European Union. Working at a small organization with large output potentials provided me enormous opportunities to effectuate meaningful contributions within the organization. 
An important duty of mine was to manage TASC's social media development strategy and oversee the organization's facebook, linkedin, twitter, and instagram handles. One important aspect of this role included promoting events to key stakeholders as well as live sharing important information from guest speakers, fellow researchers, and panelists. Through the many events we hosted, some of the guests included President of Ireland Michael D. Higgins, The Táinaste of Ireland Leo Vradakar, several MEP's within the European Union Parliament, as well as key figures from European art, business, and civil society organizations. 
My main role at TASC was to contribute to the working report "Migrant Key Workers and Social Cohesion In Europe" which was delivered to the European Union on 11 January 2022. As a key researcher and contributor, I was involved in all stages of the research process, from outlining to editing, to the launch. One of the most impactful moments of "information gathering" was interviewing migrant workers and migrant NGO workers to further learn about the exploitative and abusive working conditions under which migrant workers are often employed in Europe and how their status affects their capability to integrate and increase their social and economic exclusion and vulnerability. After writing the report, our team worked with key stakeholders to consider how current legislation hinders support for migrant worker cohesion and inclusion within society. 
Overall, I could not be more thankful for the support and recognition from Luskin Global Public Affairs regarding my work with this incredibly impactful, and powerful organization. I look forward to continuing expanding the skills and knowledge I have acquired working for TASC for the rest of my academic and professional career.
https://global.luskin.ucla.edu/wp-content/uploads/sites/20/2022/01/TASC.png
225
225
mparker
https://global.luskin.ucla.edu/wp-content/uploads/sites/20/2019/02/Bxd_Blk_LGPA_Luskin_G-e1550679145118-1030x199.png
mparker
2022-01-03 05:09:04
2022-01-03 05:11:02
Searching for Something More: Working Abroad at a Dublin Based Think Tank and Improving Means for Social Solidarity Among Key Migrant Workers