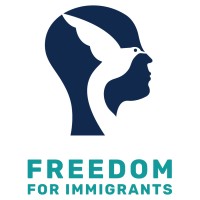 Building a Mental Health Pilot Program with Freedom for Immigrants
By Haley Broder
As a dual-degree MSW and MPP student at Luskin, I had the opportunity of a second summer  internship with Global Public Affairs Summer IPP Fellowship. After a public policy internship last  summer with iACT, I spent this past summer working with Freedom for Immigrants as a clinical  social work intern. With invaluable clinical supervision from Luskin's Dr. Jene Moio, I built a  mental health pilot program for Freedom for Immigrants and implemented the program in my 14  weeks.  
Freedom for Immigrants is a non-profit organization that works to end immigration detention  through policy advocacy, monitoring and investigations of detention centers, a national hotline  supporting those on the inside, a national bond fund, and a network of support. As part of the  Alternatives to Detention and de-carceration team, I created a plan for a 14 week mental health  pilot program.  
Working with those who are detained by ICE or recently released is not easy work emotionally  or mentally, and so, we came up with best practices for supporting the mental health and well being of staff and clients. This included supporting staff and linking them to existing mental  health resources and training. FFI partnered with Los Angeles's Didi Hirsch Mental Health  Services for a training on psychosocial first aid and suicide assessment.  
My main assignment was developing and implementing a mental health program for parents of  young children, who were previously detained by ICE. Through a grant from Child Fund, we  were able to provide stipends to participants and also match participants with therapists for  long-term care. I interviewed 47 clients who had previously been bonded out by Freedom for  Immigrants and conducted full clinical assessments to build two short term therapy groups.  
I ran two pre-therapy groups, one in Spanish, and one in English. It is evident that mental health  resources are direly needed post-release; clients routinely ask for mental health resources and  clearly stated at the end of this pilot that they need additional mental health resources and  support. We discussed the inability to speak about the trauma of detention with others, the  difficulty with finding jobs, racism encountered in the United States, the deep issues with ankle  bracelets, loss of family members and separation from children and partners, and the strong  desire for stability, emotionally and financially.  
Participants stated that this group was for some the first time they were able to discuss the  weight of what had happened to them and the impact it had on their lives. As they discussed the  "bridge" into community they are currently undergoing, they shared it was difficult to speak  about the experience with their families and friends. While the groups met over Zoom, and  nobody knew each other before, from El Salvador and Guatemala, and Nigeria and Afghanistan,  and Iraq and Eritrea, they came together in Los Angeles in their respective spaces and together  discovered how their lives overlapped.  
For me, it was a privilege to be a "guide on the side" for these groups, as Dr. Moio calls it; not a  "magic fixer," but someone there to listen and help them sort through and process this transition.  I will close with a quote received from one of the program participants in their final survey  evaluation: "I just want to say one thing, there is nothing better than freedom. I hope everyone in  that building (immigration jail) gets freedom as soon as possible."
https://global.luskin.ucla.edu/wp-content/uploads/sites/20/2021/11/freedom-for-immigrants.jpeg
200
200
mparker
https://global.luskin.ucla.edu/wp-content/uploads/sites/20/2019/02/Bxd_Blk_LGPA_Luskin_G-e1550679145118-1030x199.png
mparker
2021-11-11 02:58:41
2021-11-11 20:43:29
Building a Mental Health Pilot Program with Freedom for Immigrants