An Alumni Q&A with Meghan Corroon MURP '08
The following interview is an edited Q & A with Luskin alumna Meghan Corroon (MURP 2008).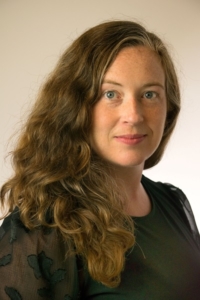 Meghan Corroon is the CEO and Founder of Lumen Design Group where she works with businesses, foundations, and impact investors to translate data into smarter decisions. Prior to starting her own company, Meghan spent over nine years at the University of North Carolina at Chapel Hill, working on Bill and Melinda Gates Foundation global public health initiatives, ultimately rising to be Technical Director of Portfolio Evaluation before she left in 2019.
Why did you choose to study at UCLA Luskin?
I worked on a plethora of initiatives in different places before coming to UCLA. I went to college in New Hampshire before spending two years as a Peace Corps volunteer in Cameroon. From there, I truly fell into international work and continued to work in international health for organizations like WaterAid UK and International Medical Corps, conducting a variety of different research and analysis for different projects.
I knew I wanted something different when looking at potential grad schools. Aside from the obvious draws to living in southern California, I liked how UCLA Luskin was both different from the environment I worked in during the previous ten years, yet still globally connected if I wanted it to be.
Looking back, what is most memorable about your time at Luskin?
I think my best memories are from courses with great professors. I'll always remember Michael Storper's course. He was a fantastic instructor and one of the few Luskin professors with an eye towards what was happening internationally. Steve [Commins] is another that made my time at UCLA Luskin exceptional. Beyond that, my cohort was made up of a group of awesome people whom I would have never met if we hadn't all been in the MURP program.
Did you go into graduate school knowing you were seeking a career doing international work? How did that come about for you?
Not at all. As I mentioned earlier, grad school was meant to be a change (or at least a break) from the work I had done since college. I was honestly pretty open minded as far as my future was concerned and didn't have a strong preference for one specialty of urban planning or health over the other. Something that probably did shape my path were the different opportunities I was afforded while at UCLA. As soon as I started the MURP program, I began working for the Center for Civil Society on a publication series where I led research on globalization and culture. I did that for almost three years.
I also ended up at the Fielding School of Public Health after finishing the MURP program and focused on monitoring and evaluation with respect to global health, extending my time at UCLA to four years. The summer between MPH years was spent conducting M&E research and analysis for the Ghanaian Ministry of Health. All of these experiential opportunities contributed to me heading back down the road of global health.
Students will be eager to learn a little bit more about your prior work at UNC/Gates Foundation working on global health projects. What was the nature of the work like? What was most enjoyable and most challenging?
Well… The Gates Foundation does a tremendous amount for global health, as you can imagine – billions of dollars. Naturally, they want to make sure that they are making strong investments that improve peoples' lives and don't unnecessarily waste resources that could be having a positive impact.
Across my almost-decade working on Gates Foundation projects, I worked on a variety of projects across countries, from reproductive health projects in poor urban areas to other development-related projects. Generally speaking, I worked on the data side of projects, monitoring and evaluating a variety of initiatives such that these projects could use data to adapt projects as needed and improve impact.
There were many enjoyable aspects to this work, but none higher than the satisfaction you get from knowing that the work you're doing is helping people who crucially need it. The flipside to that is that working for any ambitious, large organization carries with its own set of frustrations, bureaucratic and otherwise. One of the reasons I decided to leave UNC and pursue my own business was because I wanted to keep challenging myself in new ways.
What advice would you give to current Luskin students who seek to work in similar fields?
I'd say to keep an open mind and use grad school to explore different avenues in public service. Don't pigeonhole yourself needlessly early. For people looking at the global health sector, so much of the work is data-driven. Use Luskin (or Fielding) to acquire and master those skills. This will help tremendously, especially early in your career.
https://global.luskin.ucla.edu/wp-content/uploads/sites/20/2020/03/Global_Health_Icon_1-1.png
1800
3209
Global Luskin
https://global.luskin.ucla.edu/wp-content/uploads/sites/20/2019/02/Bxd_Blk_LGPA_Luskin_G-e1550679145118-1030x199.png
Global Luskin
2020-03-02 17:19:08
2020-03-02 17:19:08
An Alumni Q&A with Meghan Corroon MURP '08