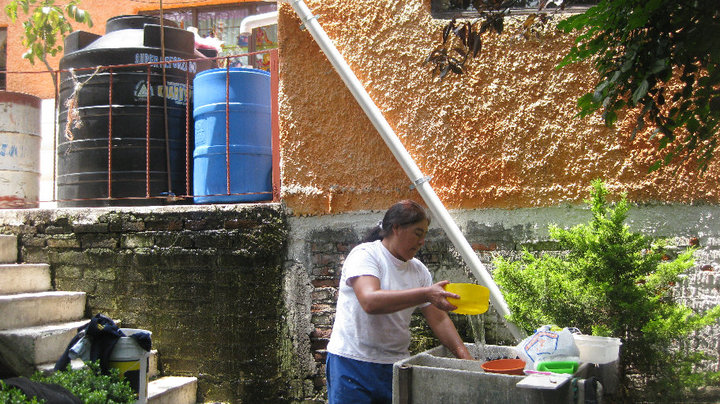 By Humberto Castro MURP/ M.Arch '17
It was not lost on me that I was moving from a place undergoing one of the most severe water crisis it had undergone in decades (California) to another place (Mexico), also undergoing a different and unrelated water crisis, also the harshest seen in decades. However, I had very little information besides the historical significance of each respective crisis. I knew that the California crisis was due to a combination of agricultural water usage in addition to a severe lack of rain. I also knew that the Mexican water crisis had to do with treatment and drainage. These oversimplifications of complex issues, however, left me severely underprepared to be of any use as a policy analyst.
So when the director of Environmental Commission told me, "Your proposal on housing construction was interesting but our top priority right now is water. Can you please change the focus of your summer project?" I was hesitant. The protests in front of the Mexican Senate entrance against the privatization of water did not help either. The policy brainstorming meetings, however, proved surprising encouraging since unlike the US, Mexico runs on a system of Civil Law. This means that policy, especially at a national level, deals with general goals, priorities and ideas instead of a comprehensive list of rules.
This system makes for meetings where the discussion between policy, politics and people's preconceptions about what the Responsibility of the State, the definition of a city and the rights of citizens all blur together. For example:
"The constitution declared access to water a 'fundamental right' but almost 20% of the population does have access to water. What does this mean?"
"If a group of citizens is living in an informal settlement, is the government endorsing 'illegal settlements' if they supply water?"
"Is it discrimination to use different water delivery technologies for geographically isolated communities? Who decides?"
"If the scale of the investment to truly give water access to 100% of the population is simply not feasible, is adopting smaller less efficient systems short sighted?"
The result less a law in which every single word may be scrutinized for significance and validity, but rather a treaty that references existing law, precedents and generally alludes to the work already in progress and makes fiscal incentives to scale current efforts to increase water access to isolated communities. The law, it turns out, may find support in the current Senate and be voted on in the coming months. While, I, in no way, feel like an expert in water policy, I am an expert in in the legislative structure of this specific law and believe it can make a small but significant difference.
https://global.luskin.ucla.edu/wp-content/uploads/sites/20/2015/09/decentralized-water-infrastructure-jpg.jpeg
404
720
UCLA Luskin School of Public Affairs
https://global.luskin.ucla.edu/wp-content/uploads/sites/20/2019/02/Bxd_Blk_LGPA_Luskin_G-e1550679145118-1030x199.png
UCLA Luskin School of Public Affairs
2015-09-29 01:59:48
2019-05-20 13:50:21
How I Became an Urban Water Infrastructure 'Expert' Part 1