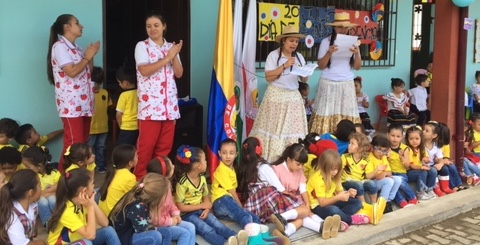 By Yesenia Garcia MSW '19
Social workers have a diverse set of skills including crisis management, cultural understanding, comparative social policy analysis, program management and research. These unique skill sets make social workers a perfect match for international work. With the expanding markets in the global humanitarian industry creating a growing demand for diverse professionals, social workers have increasing opportunities to fill a multitude of job openings in global development. GPA helps students gain overseas experience and build a strong foundation to be change agents at the international and national levels. As a GPA student, I participated in the 2018 Washington, D.C., Spring Break Trip and the 2018 IPP Summer Fellowship. Social workers need to understand the impact of globalization in the exacerbation of social issues and how that affects social work. With the help of GPA, we are able to expand our knowledge and experiences to bring about social justice.
In the spring of 2018, I traveled to Washington, D.C., alongside seven other students from the Luskin School, where we had the unique opportunity to meet individuals from various NGOs, think tanks and other organizations devoted to international development work. It was a great experience to learn about the international work that is taking place in Washington, in addition to meeting the Luskin alumni who serve as change agents at the international level. During our trip, we also had the chance to get a glimpse of the fast-paced life in Washington and visit multiple historical sites. Coming in with a research background, it was mind-blowing to see the incredible impact that many organizations' research projects have had on some of the world's most pressing issues, such as health and child well-being.
Participating in the Washington, D.C., trip further sparked my passion for international work and prompted me to participate in the 2018 IPP Summer Fellowship, where I interned for the social services department IMSS in Mexico. I worked in two different rural communities to create and implement a seven-week program with the mission of empowering women by breaking harmful cultural paradigms. This experience allowed me to immerse myself in the culture of these two communities and understand the barriers and challenges they encounter in their daily lives.
During my last week in Mexico, a networking opportunity led me to secure an internship in Colombia for the summer of 2019. I stayed at a nun convent while interning at a pre-school and working with the neighboring rural communities. This experience expanded my knowledge of how religious organizations often take a lead in global development and provide international relief.
I currently work at a community mental health center as a bilingual therapist where the majority of my caseload is Spanish-speaking families that have immigrated to the U.S. in search of a better life. My GPA experiences and my time in Colombia equipped me with the tools to better understand and conceptualize my client cases. Furthermore, I have gained a better understanding of how globalization affects our social work practice, changing service delivery, and creating consequences that social workers must address.
For any current or prospective MSW students considering pursuing a GPA certificate while at Luskin, I would say that this is the time to take advantage of all the opportunities that UCLA offers — stop waiting for tomorrow, for next quarter, and get involved today. Unfortunately, with the heavy course load, fieldwork and rigid social work curriculum I did not have the opportunity to complete a GPA certificate. However, looking back I wish I had spoken to my program advisor to make changes to my schedule. I strongly encourage others to fully take advantage of this great opportunity and complete the GPA certificate even if it means speaking to your advisor to make modifications to your schedule. I also encourage students to network and learn from others' experiences. You never know who will lend a hand to you tomorrow or help you accomplish your goals.
https://global.luskin.ucla.edu/wp-content/uploads/sites/20/2020/06/pic-8-1.jpg
245
480
mbraswell
https://global.luskin.ucla.edu/wp-content/uploads/sites/20/2019/02/Bxd_Blk_LGPA_Luskin_G-e1550679145118-1030x199.png
mbraswell
2020-06-23 09:08:38
2020-06-24 10:23:20
How Globalization Impacts the Practice of Social Work