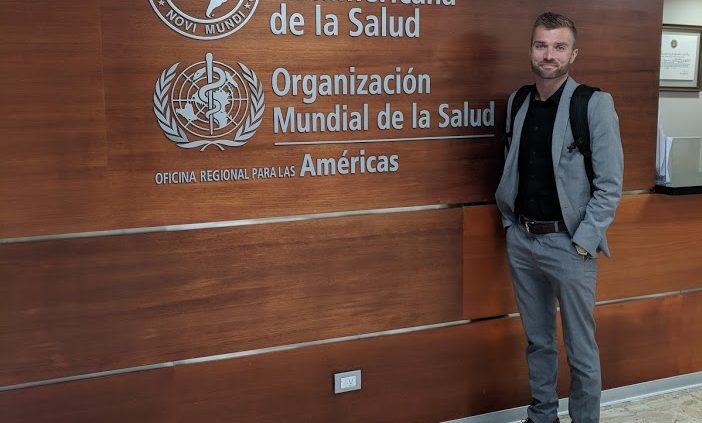 Complexities and Opportunities in Global Public Health
By Chris Odell, MPP '11
Public health is complicated; really complicated. Government, private sector, and social systems all interact with massive international market forces – hopefully informed by science and research – to literally save lives and prevent suffering. In the past 30 years this field has seen some amazing successes – twice as many children reach their 5th birthday compared to 1990 (figure 1) – but still has some ongoing challenges such as the rise of vaccine-preventable diseases (figure 2). Furthermore, when public health systems fail we see devastating consequences, like the 2014-2016 Ebola outbreak in West Africa (figure 3).
This complex interconnected system needs multi-disciplinary thinkers who can bring all the complex factors together into a single, coherent strategy to enact policy and create change. While I am certainly not able to expertly play this role, coming from the Luskin School I am equipped and on my way.
I earned my MPP from the Luskin School in 2011, focusing on global health and economics. When I look back at my time at UCLA I realize the greatest thing I learned was how to think. Through challenging econometrics, to researching energy alternatives, to examining NGO and multilateral organization structures and history, my MPP taught me how to tease apart the fundamental questions at the heart of issues, and then gave me the technical skills to answer those questions.
I've been working in global health for almost 10 years now; after working in Kenya on a children's health program, I moved to Seattle to work with the Institute for Health Metrics and Evaluation (IHME), part of the University of Washington. Here we work to measure anything and everything about the world's health – from what's making us sick or killing us, to how we're spending money, to what might happen in the next 100 years, and I still draw lessons and key principles from my time in graduate school. If there's one major lesson I've learned since graduating it's this: Numbers don't speak for themselves, and the "right policy decision" is not always obvious; it takes critical thinkers to find the right numbers to answer the important questions, and then determine the real-world implications.
Global Public Affairs at the Luskin school is truly unique in blending hard skills such as statistics and economics alongside real-world experiences to develop diplomacy and political savvy. In the world of public health, students like those who graduate from Luskin have an important role to play bridging the gap between technical sciences and decision-making. While the challenges of maintaining and improving public health systems around the world are unfathomably complex, with institutions like the Global Public Affairs at UCLA Luskin, these challenges are surmountable and we truly can make the world a better place to live in.
https://global.luskin.ucla.edu/wp-content/uploads/sites/20/2020/01/chris-odell-e1578427235620.jpg
326
702
Global Luskin
https://global.luskin.ucla.edu/wp-content/uploads/sites/20/2019/02/Bxd_Blk_LGPA_Luskin_G-e1550679145118-1030x199.png
Global Luskin
2020-01-07 12:05:35
2020-01-07 12:05:35
Complexities and Opportunities in Global Public Health