"Learning While Doing" at a Social Business Think Tank in Thailand
By Robert Gibbons, MPP '20
My time working abroad this summer was a deeply rewarding and highly educational experience. The opportunity to engage in meaningful work in South East Asia allowed me to learn about the region's nonprofit and NGO culture while also offering a chance to build my network by interacting with seasoned international development professionals. My internship with the Yunus Center was an amazing chance to "learn while doing," and I feel fortunate to have been able to pursue this endeavor with the help of Luskin's Global Public Affairs Program.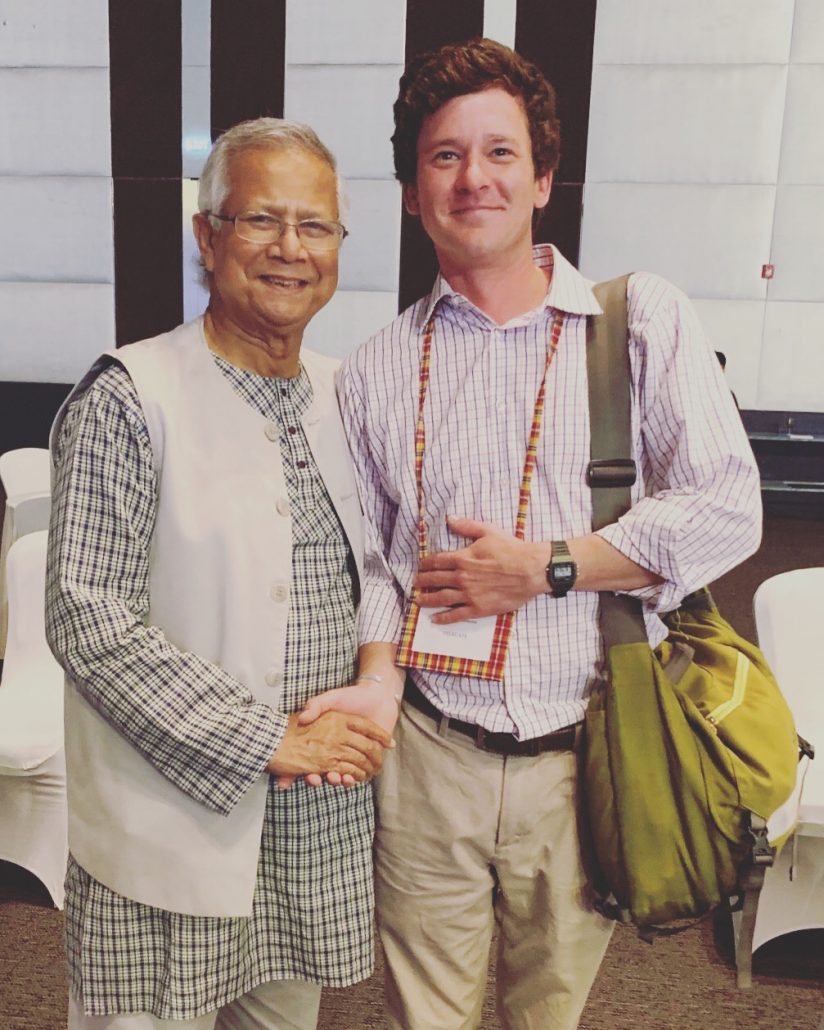 The Yunus Center at AIT was founded ten years ago by Mohammed Yunus, Nobel Laureate, Nobel Peace Prize Winner, founder of Graeme Bank, and credited for pioneering the "microloan." Described as a Social Business Think Tank, the Center is located just outside of Bangkok, at the Asian Institute of Technology. This international graduate university draws hundreds of students from across the world. Its bucolic campus is a respite from the intensely urban landscape of the city and is dotted with striking water lilies and air orchids, old growth banyan trees, along with a startling population of six-foot long monitor lizards that lazily wander around the grounds. AIT sits next to Thailand's largest and most highly regarded institution of higher learning, Thammasat University, with a population of nearly 30,000. The internationally diverse student body, as well as its renowned academic instructors makes AIT a perfect place to house the Yunus Center and an ideal location to spend a summer abroad. The Yunus Center has hosted dozens of interns over their tenure and provides its employees with housing and office accommodations. The Yunus Center staff were truly an amazing group of people and during my time there I made quick and close friends with the team, comprised of students like myself as well as full time professionals from the UK, Germany, the Philippines, and Thailand.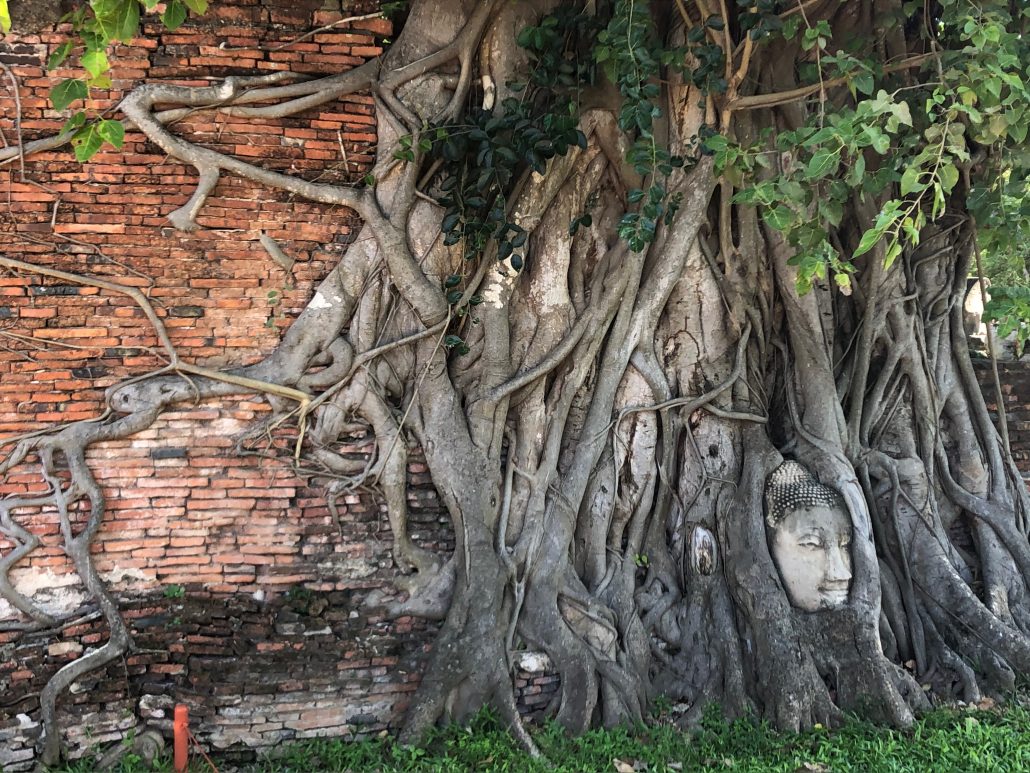 On the weekend I arrived in Bangkok I was invited to the Yunus Center's 9th Annual Social Business Day Convention, comprised of more than one thousand people including Mohammed Yunus, the Queen of Spain, Matt Damon (Water.org), an emissary from his Holiness the Pope, as well as the CEOs of Thailand's most prominent corporations, and government officials from China, India, Pakistan, Sri Lanka, Bangladesh, Germany and the United States. It was truly a humbling weekend and an excellent introduction to the Yunus movement and the impressive brand equity that his organization has cultivated. The event also served as a great template for the work I would undertake over the summer – organizing a conference focused around Social Business and the Belt and Road Initiative (BRI), a massive infrastructure and cultural push by China to essentially create a new silk road connecting east and west. In the past interns have worked to formulate their own social business ventures, assist with existing initiatives, or contribute to research projects that support the Yunus Center long-term mission of making Bangkok a "Social Business City."
When not working at the Center I could avail myself of AIT's cafeteria and pool, squash courts and gym, as well as a golf course on site. An easy taxi ride into Bangkok or short train trip north to Ayutthaya (the former capital of Siam), offered close and fun attractions to suit all interests – from the most tourist to decidedly off the beaten path trekking and thousand-year-old wats and temples. I would be remiss if I failed to note the close proximity of Thailand's stunning coast. The islands, even in the off/rainy season, were like nothing I had ever visited before. Stunning limestone cliffs jetted straight out of the warm ocean waters surrounded by coves dotted with long-tail schooners and traditional fisherman villages. At the end of my stay I traveled north to the Burma-Thai border for a ten-day meditation retreat at the Buddhist Monastery, Wat Tam Wua, which was nothing short of incredible.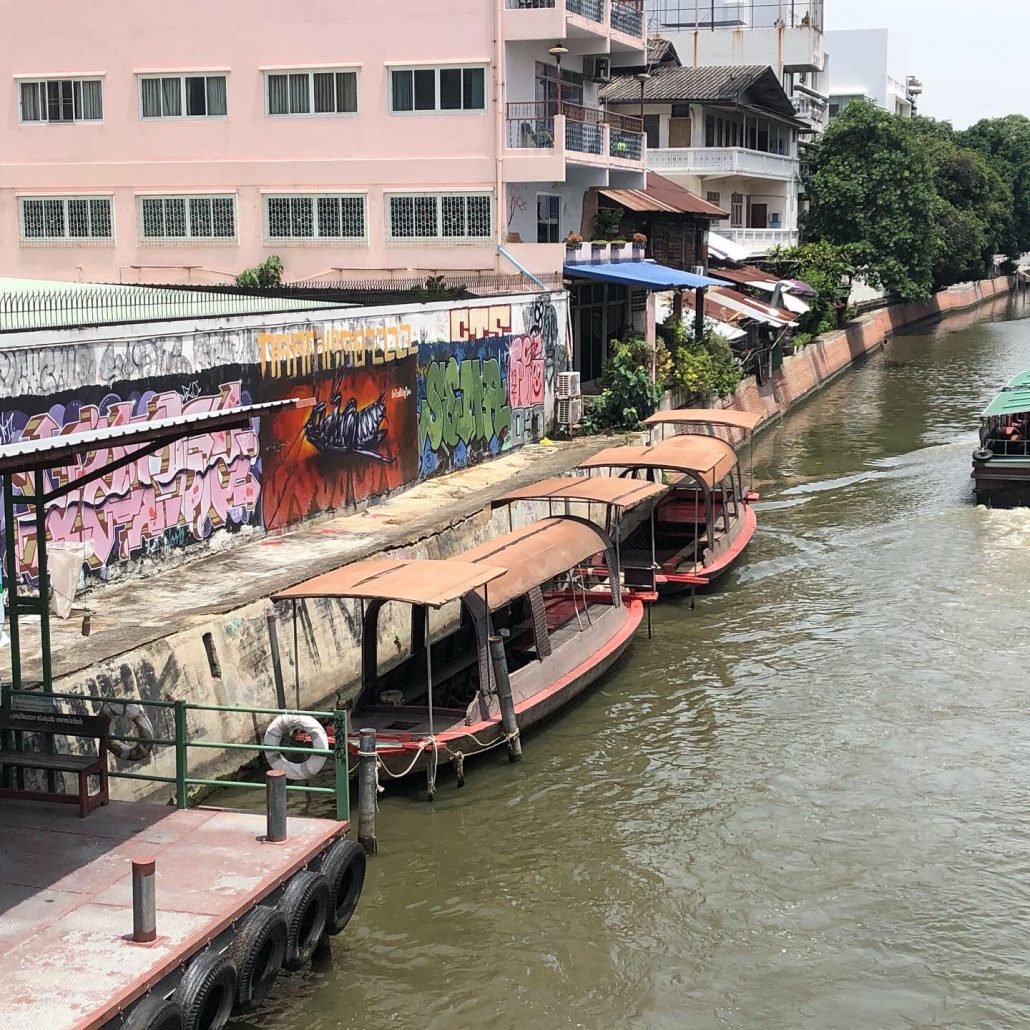 The three months that I spent in Thailand were much more than an internship, break from school, or travel opportunity. I learned a great deal about how nonprofit organizations like the Yunus Center are shaping the developing world, made important contacts and friends that I will be in touch with for years to come, experienced a great deal of personal growth, and gained invaluable perspective that continues to shape my academic studies and professional pursuits.
Many thanks to the Global Affairs Program and Steve Commins, in particular, for their thoughtful assistance in securing this opportunity. I hope future Luskin students are able to engage with the Yunus Center and I look forward to hearing about their undoubtedly amazing experiences!
https://global.luskin.ucla.edu/wp-content/uploads/sites/20/2019/10/IMG-3439.jpg
3024
4032
Global Luskin
https://global.luskin.ucla.edu/wp-content/uploads/sites/20/2019/02/Bxd_Blk_LGPA_Luskin_G-e1550679145118-1030x199.png
Global Luskin
2019-10-11 09:44:49
2019-10-11 09:44:49
"Learning While Doing" at a Social Business Think Tank in Thailand