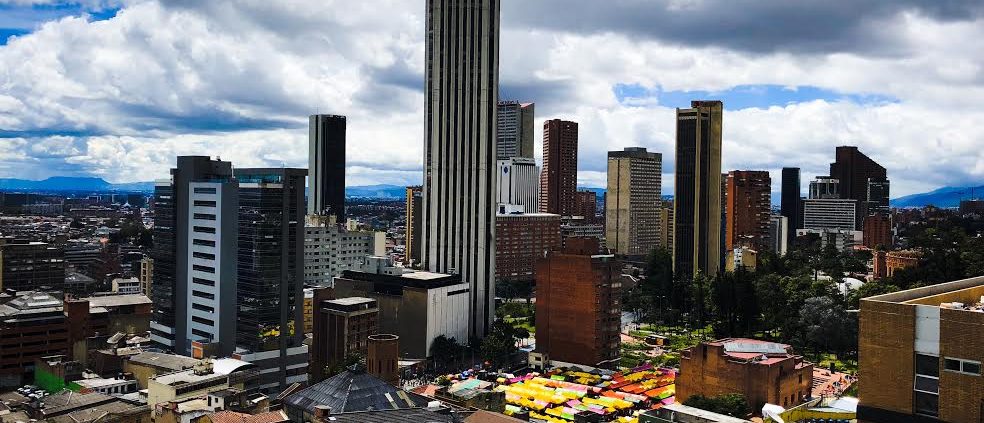 The Beauty of Being 8660 Feet Above Sea Level
by Angela Garcia, MSW '19
Arriving in Bogotà, Colombia was a unique experience, as I landed, and I took in the Colombian air a similar feeling to that of my parents' home country of Mexico settled in. The smells of rich soil and diverse people began to overtake my senses. However, I soon realized that I was not in familiar territory. As I left the airport my breath became short of breath and I was having difficulty speaking without taking deep breaths. I was then told my Colombian friend that the altitude in Bogotá is well over 8000 feet compared to the mere 256 feet in Los Angeles. The first few days were rough navigating the space and consistently feeling winded presented its fair share of adversity. However, after spending a couple of days in Bogota I began to explore the city, its loud and enormous city full of life.
   As I began to connect with the agency I will be working with, La Red Comunitaria Trans (RTC), it led me into La Zona de Tolerancia (Tolerance Zone). Notorious for being the area in which sex work is legal and permitted. RTC as an organization strives to make trans lives be seen and valued in a country that often ignores them. They accomplish this by taking space instead of waiting for it to be granted. I came to Colombia to work with trans women and document their experiences with Police violence and the impact it has on their daily lives. I arrived shortly after the culmination of the Bogotá pride march in which La Red hosted their own Trans Walk. A day that should've been filled with validation and pride turned into a disappointment on behalf of law enforcement. La Red's float was destroyed, and their equipment was stolen. When confronted law enforcement made no attempt at helping La Red recover their stolen equipment, it was clear that these women were not a priority. It made me question if this is the attitude that law enforcement holds towards the trans community in public, it's questionable what takes place behind closed doors.
   As I would make the commute from where I am living to La Zona de Tolerancia towards RTC I made some quick observations. The conditions of the streets seem to worsen as we got closer, it went from beautiful street art to territorial graffiti. Another more notable feature was the difference in people, as I got closer to Santa Fe the population of People of Color increased along with clear signs of poverty. It is obvious that here in Bogota there is a hierarchy of Color and wealth, much like there is in the U.S. Sometimes we look at places like Colombia and think that we are so different but being here only a week, I have realized we are also similar beyond our understanding.
   Surrounded by the Beautiful Andes Mountains Bogotà is nothing short of breathtaking, literally. I had an amazing experience getting to know the of Colombia and working with La Red to better understand the realities that the trans community faces in Bogotá. I wish to return the following year to see the impact of the groundwork I worked on with these amazing women. Working together to address police violence in the community of RTC, I hope I made an impact for good on their lives as they have made one on me.
https://global.luskin.ucla.edu/wp-content/uploads/sites/20/2018/10/1.jpg
738
984
Global Luskin
https://global.luskin.ucla.edu/wp-content/uploads/sites/20/2019/02/Bxd_Blk_LGPA_Luskin_G-e1550679145118-1030x199.png
Global Luskin
2018-10-07 17:23:51
2019-04-12 10:01:28
The Beauty of Being 8660 Feet Above Sea Level