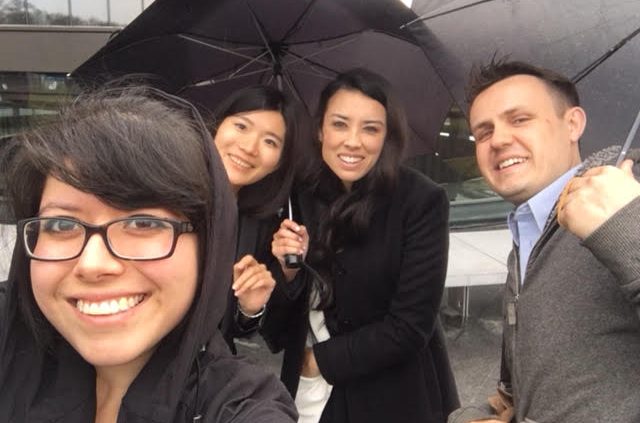 By Yesenia Garcia, MSW '19
During the first year of my time as an MSW graduate student, I had the opportunity to travel to Washington DC along the side of seven other students from the Luskin Department. We had the unique opportunity to meet various organizations (NGOs, think tanks & etc.) devoted to international development work. They shared about the many projects they were working on and about how their career paths led them to DC. It was a great opportunity to find out about the international work that is taking place in DC, in addition to meeting the Luskin Alumni who serve as change agents in the national and international level. 
This trip was very informative as I am very passionate about international social work and I have a desire to contribute to the development of countries in Latin America.  Having the experience to work both in Panama and Mexico I have first-hand experience of the obscenity of poverty and the unequal distribution of resources amongst these countries and I believe that International social work is key to these issues.  During our trip, I was able to speak to Nick Smith a Bruin Alumni from the World Bank who began his own international non-profit using a microfinance model. I found this to be very interesting and innovative as this model allows people to help themselves by providing them with funds to improve their standard of living. We also had the opportunity to meet with Mathematica an organization devoted to improving health through research. They focus on assessing the effectiveness of policy and programs Nationally and Internationally.
Moreover, we also had the chance to explore D.C and to experience the culture of the capital, which is largely influenced by the presence of the federal government. From visiting museums such as the African American Museum and the striking monuments, we were able to see how the backbone of the city is built on arts and culture.
This experience was incredibly helpful, especially as a first-year MSW graduate student. It has been an opportunity to expand my professional network and it opened the door to the many opportunities in DC. It was also my first time visiting DC and I can definitely see myself going back in the near future. I'm thankful to Professor Commins and the GPA department for the hard work in organizing this trip. It was a memorable experience and I encourage other Luskin students to apply for this amazing opportunity.
https://global.luskin.ucla.edu/wp-content/uploads/sites/20/2018/06/yesi1.jpg
480
640
Global Luskin
https://global.luskin.ucla.edu/wp-content/uploads/sites/20/2019/02/Bxd_Blk_LGPA_Luskin_G-e1550679145118-1030x199.png
Global Luskin
2018-06-04 00:55:14
2019-05-20 11:08:02
Washington D.C. with GPA Part IV