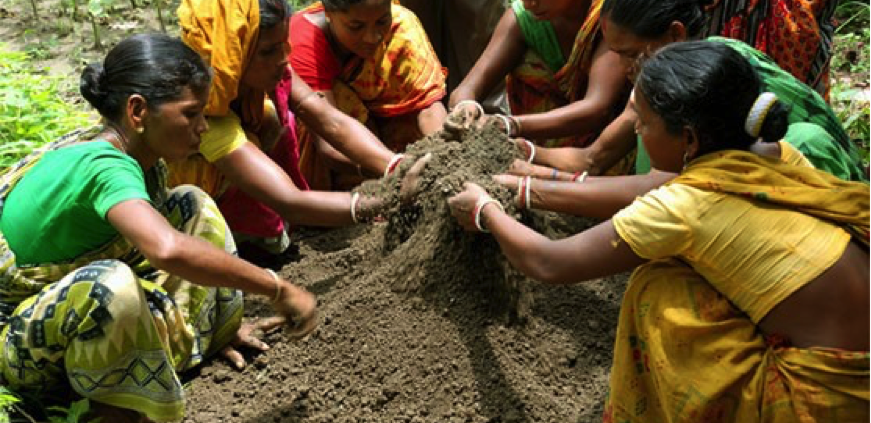 The Sun-Moon Divide: Gender Inequality in India
By Tanya Honey, MPP '18
Navigating the streets of the world's second-most-populated city and "rape capital" has been challenging as a woman. Whether it was staying home after it gets dark, taking the "Women's Only" coach, or walking down the street alone without having men stare at you, the only conclusion I reached is that being a woman in India is not easy.
India is a deep-rooted patriarchal society. I noticed more men walking on the streets than women; I also discovered through my readings at my internship that marital rape is not a crime, and women are treated as second-class citizens.
I have been aware of the inequality and safety issue for women in India, even as I traveled on the "Women's Only" coach. At some metro stops, for example, there are checkpoints where officers have to check and enforce the women's only rule because men were still harassing women. Women are even allowed to carry a small knife with them on the metro. This is the only reason why I took the metro — at least it was vigilant, unlike buses or any other form of public transportation — especially after the terrible incident with Jyoti Singh, who was tortured and killed in a deadly gangbang rape while she was traveling on a bus in 2012.
Gender discrimination is everywhere, and women's safety has always been a concern.
There have been many policies where we can see that change is occurring, such as the implementation of the "Women's Only" coach. The mentality has always been for women to be forced to rely on their husbands for protection, and if they travel alone, it is seen as an anomaly. I could see the struggle of women trying to prove that working outside their home is a good option and that commuting isn't a safety barrier to the workplace.
Even though I can't tell by simply observing these women wearing colorful sarees or kurtas on the metro, I'm hopeful that my research will highlight trends that not only bring light to the timely and impactful issue of violence against women, but will also lead to interventions to support women's empowerment.
Working on women's equality issues with a well-seasoned and very well-known women's rights activist, Dr. Govind Kelkar, the focus for my internship has been on women's empowerment and eradicating violence against women in India's rural areas.
Landesa has been working hard on women's land rights because it is an economic asset that women have very little control over and it is life-changing for them, their families and the economy. Landesa's website points out that "when women have secure rights to land, women's status improves and they are better able to take care of themselves, their families, and their land."
New data is available from the latest National Family Health Survey 4 (NFHS 4), which is conducted every 10 years, and this time it includes data on land rights. My research objective is to see whether gender-based violence (domestic and public) has increased or decreased as a result of women owning land.
It is too early to say whether it is correlated or not, but my research will continue and, hopefully, I will be able to do some fieldwork to find out whether it is correlation or causation.
https://global.luskin.ucla.edu/wp-content/uploads/sites/20/2017/07/women-India.png
540
871
Les Dunseith
https://global.luskin.ucla.edu/wp-content/uploads/sites/20/2019/02/Bxd_Blk_LGPA_Luskin_G-e1550679145118-1030x199.png
Les Dunseith
2017-07-20 11:54:17
2019-05-20 12:45:32
The Sun-Moon Divide: Gender Inequality in India