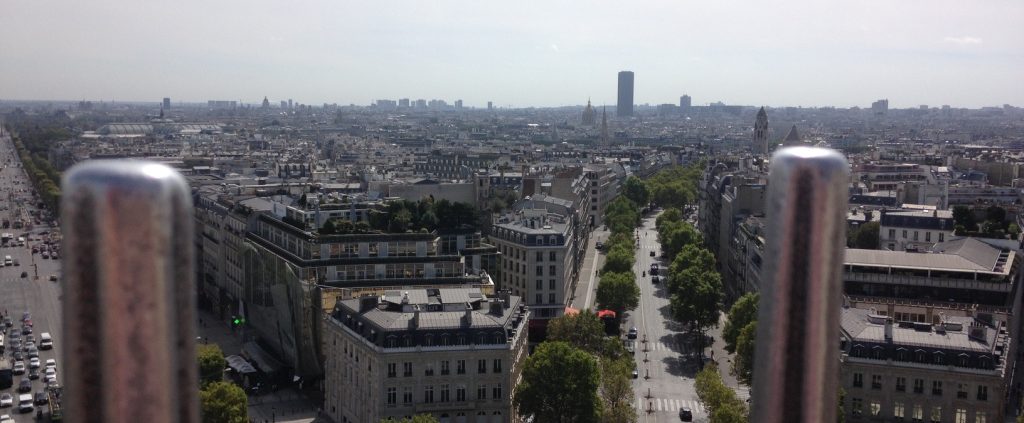 By Victor Ansley, MURP '17
As one of the first students to get the chance to participate in the UCLA Luskin – SciencesPo Paris master's exchange program, I feel privileged to have the opportunity to spend a semester in Paris while also engaging with a uniquely complementary curriculum at SciencesPo.
First off, being in an urbanized space was, simply put, a breath of fresh air. Compared to the sprawl and congestion of Los Angeles, having the opportunity to get around the city easily and affordably is invigorating and provides a constant reminder of why we love cities in the first place. Secondly, the integration of public space into the urban fabric of Paris is nothing less than impressive. The Parisian public spaces maintain a level of richness and tradition that feel like monuments to pedestrians. In particular, the student districts that I have encountered have impressed me. The Latin Quarter (where I live) and areas around SciencesPo and Boulevard St. Germain have distinguished themselves to me for their accessibility and amenability to students.
In terms of the Governing the Large Metropolis (GLM) program, I
could not have asked for a more invigorating and innovative selection of professors and courses. As an exchange student in the M1 semester of GLM, my courses have centered on foundational understanding of public policy, urban governance theory, and a comparative examination of current trends in the governance and growth of Large Metropolis. In particular, the curriculum's emphasis on Urban Governance has been a large part of what has made my educational experience more robust. The program encourages students to look outside of regionalist perspectives and engage with the rising trends of emerging cities all around the world. I have felt invigorated by the robust theoretical foundation of GLM that has helped to place important issue-based literature on topics like inequality, informality and international growth within context. As a student concentrating in Design and Development at UCLA, understanding the broader patterns of Urban Governance has shed greater light on the dynamic opportunities and challenges facing cities all across the world.
In addition to the curriculum and urban experience, I feel fortunate to have gained a second cohort family in the GLM. With students from across the world as peers, urban questions inherently take on a richer meaning, as each student contributes a different perspective. With peers from places like Africa, Latin America and Asia, the connections themselves have proven extremely rewarding.
I feel very fortunate to have the opportunity to be in Paris for a semester and can't say enough about the experience so far. The pastries aren't bad either!
https://global.luskin.ucla.edu/wp-content/uploads/sites/20/2016/10/thumb_IMG_0579_1024.jpg
768
1024
Global Luskin
https://global.luskin.ucla.edu/wp-content/uploads/sites/20/2019/02/Bxd_Blk_LGPA_Luskin_G-e1550679145118-1030x199.png
Global Luskin
2016-10-31 17:43:03
2016-10-31 17:43:03
Governing the Large Metropolis: Sciences Po – UCLA Luskin Exchange Program