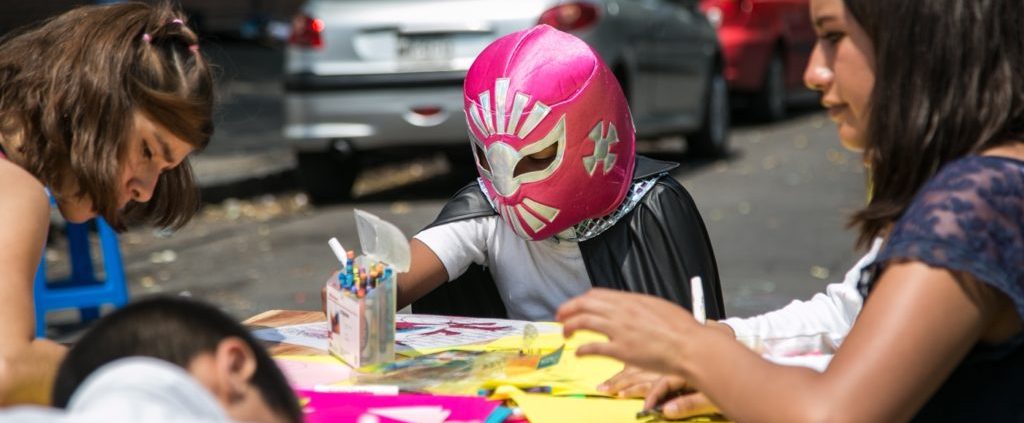 Peatoniños: Liberating the Streets for Children and Play
By Gus Wendel, MURP '17
"Las calles no son para los niños. Las calles estan donde van los autos, entonces son para los autos". It can be difficult to convince someone that the street belongs to people, not cars. Harder still is convincing a parent of three children that the street can be a safe place for kids to play. The task of changing the way we think about the street, who it's for, and how it might otherwise be used, is one that requires a broader shift in the public consciousness. One of the fundamental tasks of Peatoniños, my project for the summer, is to disrupt the simple yet pernicious narrative that the streets belong to cars. My co-collaborators and I argue that it is critical to challenge this narrative in order to realize what Lefebvre and Harvey call the "right to the city", that belongs to all citizens, including children.
In Mexico City, 56% of the population is under 26 and the number one preventable cause of death in youth is pedestrian-automobile accidents. According to the Consejo Nacional para la prevención de Accidentes, in 2013, 80% of traffic incidents in Mexico occurred in urban areas and were the primary cause of death amongst children between 5 and 14 years old. While there is no one causal factor, a range of urban conditions related to traffic, pedestrian mobility, youth mobility, and multi-modal access to the street to name a few, are attributable to this stark reality. What can we do to make the streets safer for young people? How might we reclaim the street for all users, especially children?
Peatoniños is a project developed in collaboration between the UCLA Urban Humanities initiative and
Laboratorio Para La Ciudad. I came on board in June to help take the project to its next iterative phase. In short, Peatoniños promotes the rights of children to play and to the city by creating "play streets", which consists of simulating play spaces and developing ludic activities on streets partially or completely closed to vehicular traffic. We select sites that have (1) a medium to high degree of marginalization, (2) relatively high concentrations of children, and (3) a lack of public space, where (4) there is continuous traffic on the street, (5) high automobile speeds (>30 km/hr), and (6) there is an evident presence of cars parked on the street.
While it is still early to draw conclusions, it is quite obvious the ways that Los Angeles can learn from Mexico City's example, specifically the relationship between community members and local government. Each play street intervention is only successful as far as local community members are willing to get involved. For example the "viene vienes", whose informal parking business controls public parking in many neighborhoods, voluntarily helped us close down the streets to traffic during our first play street event, making it possible for us to turn our attention to making sure kids were playing safely. Establishing trust between community stakeholders and government, and planning for a certain degree of uncertainty, or flexibility, seems to be critical elements that allow these types of interventions run smoothly. Cars and the culture that supports them are relentless, both here and in Los Angeles, so establishing different tactics for slowing traffic and shutting down streets in a civil manner is crucial.
It's hard to accept that it's already August. I've been here in Mexico City for seven weeks, yet it feels like two. The project we undertook in collaboration with Laboratorio Para La Ciudad (Lab) has already seen two successful play street interventions, one in Colonia Buenos Aires, the other in Colonia Obrera, both working class neighborhoods located near dense city center.
It'd be a vast understatement to say I've learned loads thus far—there really is no easy, concise way to describe the tremendous impact this project has had on me intellectually and emotionally. I wasn't able to change the mind of the parent of three, but otherwise parents have overwhelmingly supported Peatoniños, and unless a family already had plans, they enthusiastically show up to our events with their kids. Undoubtedly, we have accomplished a ton these past few weeks, and there is still a long way to go.
https://global.luskin.ucla.edu/wp-content/uploads/sites/20/2016/08/peatonino2-copy.jpg
645
1024
Global Luskin
https://global.luskin.ucla.edu/wp-content/uploads/sites/20/2019/02/Bxd_Blk_LGPA_Luskin_G-e1550679145118-1030x199.png
Global Luskin
2016-08-10 19:57:08
2019-05-20 13:08:40
Peatoniños: Liberating the Streets for Children and Play